40′ CONTAINER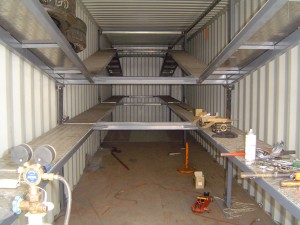 Constructing the 40′ container
Constructing the 40′ container showing the three decks and three bays. Nine cars can be loaded using a series of cables attached as required to a large electric winch. The centre deck of the rear bay and the top deck of the middle bay are fixed and the rest of the bays can be raised or lowered so as to load, store and unload the cars.
Cars being loaded for New Zealand in 2009. The two cars shown are the top and midle decks of bay 2.
The top car is Kevin Taylor's BT21 Brabham and the middle deck holds Henry Oosterbaan's Holden powered Alton.
Each car was drained of fuel, battery disconnected and cleaned to allow for MAF in New Zealand to approve the importation. You may also note the Clear film on the tyres to reduce the potential for contamination.
The winches are powered by a 12 volt jumper pack using an Anderson Plug. The containers are all fitted with internal lights to allow for loading at night.
Inside the 40′ container when loaded showing the cars and parts in position with a walk way along the side of the decking. Items can be placed in the walkway if required.
The 40′ container with 9 cars on board ready to leave for New Zealand in 2010. The top two decks are for formula cars whilst the bottom deck can take the sports cars and formula cars. The three cars in the front bay are two formula fords (Royale on the top deck, a Palliser in the middle deck) and a J2 MG on the lower deck.  There is a reasonable amount of room on the floor of the bottom deck once the cars have been loaded.
20′ CONTAINER
The 20′ Container was designed to take 4 cars and has to date been used twice to New Zealand and once to South Africa.
The first car is reversed into the top deck and the front is suspended from a winched support. The top deck is then lowered to let the next car in.  the second car faces the rear of the container and the deck is then lifted to a horizontal position.  The same procedure is repeated for the bottom deck.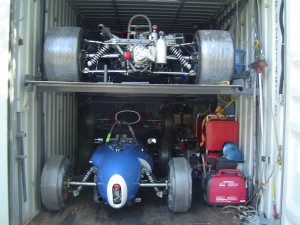 The container fully packed with 4 cars, six spare engines, two gearboxes, several wheels and tyres and a host of spares and tools including MIG welders and generators.
Activity in loading the containers for the Bruce McLaren Festival in New Zealand in 2010.
Sonny Rajah seen cleaning under the container as it is lifted on to the truck. Not only the cars need to be spotless, but the containers also need to be free of bio hazzards.
The truck transporting the two containers to the Fremantle Port on route to the Bruce McLaren festival in 2010.
[nggallery id=12]
.