In 1969 Craig McAllister visited the Macon factory in the UK and convinced them to construct a formula 2 racing car.
The vehicle was completed in August 1969 and shipped to West Australia with a Lotus twin cam motor, Hewland Mk8 five speed gearbox, large aluminium brakes callipers and rotors, heavy duty suspension and drive shafts as well as 10 inch front and 12 inch rear Minilite magnesium wheels.
The vehicle was very competitive and with Bob Illich (ex Jack Brabham formula 1 mechanic) in his BT21CF2 Brabham, dominated the local monoposto racing scene.
The Macon and Brabham were almost identical in their performance and handling and through the 1970's lap records moved between the Brabham and Macon.
The car was sold to Colin Hall in 1973 and Frank Cecchele and Max Fletcher in 1978.
By 1980 the car became uncompetitive and was almost cut up and converted into a sports car. In 1981 Bob Biltoft, a local motoring legend, acquired the car to stop it happening.
Macon Formula 2
Chassis # MR-1-69
The car ran in a few historic events but mainly sat idle until 1998 when it was acquired by Neil McCrudden.
The car has been used regularly since then winning the historic hill climb championships in 1999 and the rear engined sports and racing car championship in 2005. The car has run at Wanneroo raceway, Philip Island Raceway, Collie raceway as well as around the house events at Albany, Narrogin, York, Northam and Goomalling. In addition, the Macon has run at Phillip Island and a number of times overseas including New Zealand where it won at Taupo in 2008 and at Zwartkops South Africa where it also won against a large international field.
The car is currently driven by Neil McCrudden.
Technical Details
Chassis – Tubular space frame designed and built by Macon in the UK
Engine – Lotus twin cam
Gearbox – Hewland Mk8 five speed
Wheels – 10 inch front and 12 inch rear Minilite magnesium wheels.
Recent History
1999 – State Speed Series – 1st in Historics
2005 – Rear Engined Race Cars –  1st in Championship
2007 – Rear Engined Race Cars – 1st in Championship
2008 – Taupo, New Zealand – 1st in Super Historics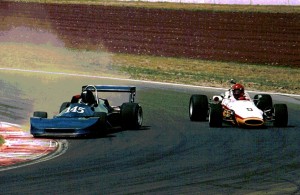 Macon driven by Calven Bonney at Taupo New Zealand 2008.
2009 – Zwartkops, South Africa – 1st in Historic Racing Cars
Macon driven by Neil McCrudden at Zwartkops South Africa 2009.
2010 – Clem Dwyer Cup – Wanneroo West Australia
[nggallery id=4]
.
Macon was well known as a high quality constructor of formula fords.