In 1968 Neil McCrudden acquired the 1960 Austin Healey sprite which was fitted with an ex seedway grey motor Holden with tripple 1 1/2 SU carbs, extractors and full race cam.  After about six months the engine damaged a crankshaft and was subsequently replaced with a near new Holden 186 red motor and originally a 5 speed Nissan gearbox. The engine was fitted with tripple 2″ SU carbs, 12 port head and Bert Jones cam. The gearbox costantly failed together with the welded axles.  In late 1969 the sprite was then fitted with tripple 45mm DCOE Weber carbs, 12 port head, dry sump and heavy duty 4 speed Holden gearbox. A holden LSD was also fitted and the brakes were upgraded to have holden discs on the front and Valiant discs on the rear.  The Sprite ran at the first meeting at the Ravenswood Drags and was also licensed for the street.  The Sprite also ran at Wanneroo Raceway in club events with the Austin Healey Club. 
During the next few years, the sprite was a regular contender at the Ravenswood drags and was believed to be the fastest street vehicle at the time.  In events restricted to registered vehicles, the Sprite would run against the motor cycles.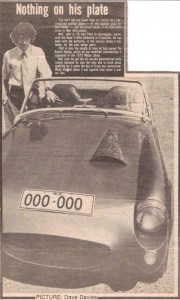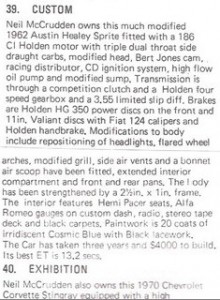 (Extract from 1972 Motor Show program)
Austin Healy at Ravenswood Raceway fitted with 186 Holden motor and GM371 Blower.
In 2017 Neil Woodward and with the help of Neil McCrudden started the restoration of the bug eye sprite. It is hoped to have it completed by 2019.


[nggallery id=**]
.